updated Saturday 17 February 2002 (1304 EST)
Contacts: Sarah Mann, president; Gregory Hutchison, visiting coach; Geoffrey Knauth, coach, 570-326-3822.
---
Upcoming Events
Currently (winter 2002) we are meeting at the gym 6-7 a.m. every MWF, for circuits, running and erg workouts. People are doing additional workouts on their own. Gregory Hutchison, who is student teaching in Williamsport, is our visiting coach from PSU.
Sarah is organizing a T-shirt sale and ordering wind shirts.
---
Past Events
2001-2002
Our new president, Sarah Mann, organized three outings in the fall of 2001, one to transport and rig the boat, and two rows on the mighty Susquehanna. Here are some pictures.
2000-2001
Dean Saunders became our faculty advisor. Geoff Smith was our president.
Tuesday, October 3, 2000, 9 p.m. We met on the 3rd floor of Wertz hall to vote on T-shirt designs and to discuss when we can next get together to row.
Saturday, September 23, 2000, 1 p.m. We met in front of Wertz Hall to travel to Duboistown to rig the boat, and then rowed the eight with six rowers and a coxswain. Here are some photos of our first outing.
Tuesday, September 19, 2000, 9 p.m. We met on the 3rd floor of Wertz hall to discuss plans for the year 2000-2001.
1999-2000
Wednesday, March 29, 2000. Geoff S. is going to check whether we can get the dock in this weekend. We can't really row until the dock is in. Sometimes you can wade into the water with a boat, but the wading-in area is (1) too narrow for an eight, (2) the riverbed at the shoreline is rocky, and (3) the riverbed drops off too rapidly. So we need the dock. Until then, all we can do is tinker with the boat's rigging. Luckily, it seems we have all the parts now.
Tuesday, March 28, 2000, 5 p.m. We hoped this would be our first practice on the water. Geoff Smith and I looked at the water at 4:30 p.m., which is rowable if you're experienced, with the onshore breeze. However, the dock is not in and the riverbed is rocky and drops off rapidly, plus there are hard obstacles that would make a landing with an onshore breeze tricky even with an experienced crew, so we did not row today. The good news is that Jane found the missing seats, and Geoff S. found and installed the missing piece to the back stay for the stroke's rigger.
Friday, March 24, 2000, 4 p.m. We rigged the boat. We're still looking for some missing seats, and part of the backstay for the stroke's rigger is missing. The boat will need a little more work before it is rowable. By the way, here's a link that shows a Schoenbröd rigger under stess. And another link explains the proper assembly of a Schoenbröd rigger.
Wednesday, March 22, 2000, 9 p.m. Meeting, 3rd floor of Wertz Hall. Goal: to find a time of day when we can all be in one place to row on the water, and to determine how many outings we should have each week. The more times we go out on the water, the better we'll row. We decided that rowing 5-6pm TWThF would probably be best for now, since a few people have classes ending at 4:00 or 4:50, and the cafeteria closes at 6:30pm.
Sunday, February 20, 2000. CRASH-B Sprints World Indoor Rowing Championships, where world class rowers gather in the winter for fun competition. Last year's (1999) winner Rob Waddell from New Zealand was also the world champion in the single scull at FISA World Rowing Championships on the water, which in 1999 were in St. Catherine's, Ontario, Canada. It was the first time the world erg champion was also the champion in the technically demanding single. (The erg is a test of raw strength and endurance, but the single demands that you row well.) Waddell won again in 2000 in the International Final, after which a collegiate swimmer from Brown very nearly rowed faster in the College Final.
Monday, January 31, 2000, 6 a.m. We had our first group workout of the new millenium in the college's athletic building on the main campus (where the ergs are). Rowing technique was demonstrated.
Thursday, January 27, 2000, 9 p.m. Meeting, 3rd floor of Wertz Hall. We discussed levels of fitness, sports experiences, personal goals and interests, and scheduling possibilities for this semester, to figure out where we are in the great spectrum of rowing, and establish reasonable team goals. Probably the most important thing right now is that we find at least eight rowers and a coxswain who can get together with a coach on a regular basis, because that makes the best use of the equipment we have (an eight). I've been told we also have access to ergometers for winter training. And of course the college has other standard sports training facilities.
Jane Dunn, who founded the rowing club at Lycoming College, passed the presidency of the club to Geoff Smith.
Saturday, December 4, 1999. We derigged the eight.
Thursday, December 2, 1999. Preliminary meeting at Lycoming College. Started this web site.
---
Goals
Since this is the first year (1999-2000) that Lycoming College will be on the water, the goal should be fun. But part of fun is doing well, and that means getting in shape, learning good rowing technique, and building a team. Winning races is also very nice. If you don't win a race, at least you want to know you had a great race and gave it all you could.
---
Workouts
Rowing is a highly aerobic sport. Winter workouts should be aerobic (about 60-65% of your max. heart rate). If you want a very crude estimate (assuming you're of college age), just take your pulse for ten seconds. During exercise, you should get a count between 20-23. Anything you do at this pace should be for at least an hour, preferably two, whether it be cross-country skiing, jogging, swimming, walking or running up-hill, rowing on the ergometer, or even (hey!) aerobics.
If you want to build strength through weights, your leg muscles (quads/thighs) are the most important, followed by strong lower back muscles, and then lats and arms. Be very careful about your back! I know a lot of national team rowers who pushed themselves too hard with weights (especially during the 1992-96 cycle) and now have back problems, so if you do anything with weights, I want you do be especially careful to protect your back from injury, and this means getting proper coaching in technique with weights, knowing your limits, and listening to your body.
If you want some simple advice on training for the CRASH-B Sprints, look here.
---
Resources
Starting in the fall of 1999, Lycoming has a Schoenbröd sectional eight obtained from Susquehanna University, as well as two Concept-II Model C ergometers. Two more ergs are on the way, probably Model Bs.
Since we have Schoebröd equipment, here's how to get a hold of Schoenbröd:
Schoenbröd Racing Shells, 596 Elm Street, Biddeford, ME 04005
Phone Number: 207-283-3026, Fax Number: 207-985-6814
---
Directions
The rowing is done upstream (west) of Williamsport on the Susquehanna River, courtesy of the West Branch Motor Boat Association in Duboistown. To get there from Williamsport, cross the Market Street bridge (Rt. 15) to the south side of the Susquehanna River, turn right (west) on Rt. 654, proceed 2.0 miles, take a right on Summer Street. The location across the railroad tracks, #10 Summer Street, on the opposite side of the river and 1/4 mile downstream from the Hiawatha riverboat dock. Here's a map, courtesy of MapQuest, which suggests crossing the Maynard St. bridge instead: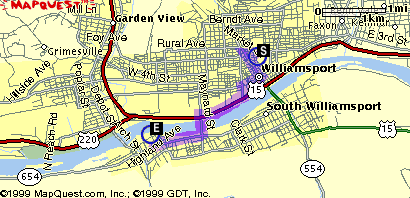 ---
People
Faculty advisor: Dean Sue Saunders.
Jane Dunn '00 organized the Lycoming Crew in the fall of 1998 and was its first president. She got the spark for rowing while studying in Brisbane, Australia.
Patric Keane '01 is a proud member of the U.S. Marine Corps.
Geoff Smith '01, was the second president of the club.
Gregory Hutchison, who is student teaching in Williamsport, is our visiting coach from PSU.
Sarah Mann '03 has rowed singles for three years, at Cornell and other locations. She also plays soccer and volleyball. She is our current president.
Zach Ritter '03 is the current vice president of the club.
Geoffrey Knauth moved to Williamsport, PA, in August 1999 after twenty years in Boston, when his wife Robin accepted the position of Old Testmanent professor at Lycoming College. Geoffrey and Robin have two children, Alexander and William. Geoffrey started rowing in 1974, and coxed at Rumsey Hall School, Choate Rosemary Hall, Harvard College, Riverside Boat Club, Cambridge Boat Club, Boston Rowing Center, and on the U.S. National Team. He's served on the Regatta Committee of the Head of the Charles®, and is on the Board of the C.R.A.S.H.-B. Sprints World Indoor Rowing Championships. He was men's captain at Cambridge Boat Club before moving to Williamsport. He works full-time as a programmer in the Distributed Systems & Logistics department of BBN Technologies, part of Verizon. See GSK home page.